The BEVS 2808 Vertical Abrasion ScrubTester is widely used for the scrub resistance and abrasion resistance testing of paints, coatings, inks, leather, printing, fabrics, plastics and other products. The test panel is fixed in an inclined position, the test is carried out by a roller brush. The distance between the roller and the test panel is kept constant to keep pressure stable. The difference between it and the traditional wash-resistant instrument is that the vertical wash-resistant effect is more real and reliable.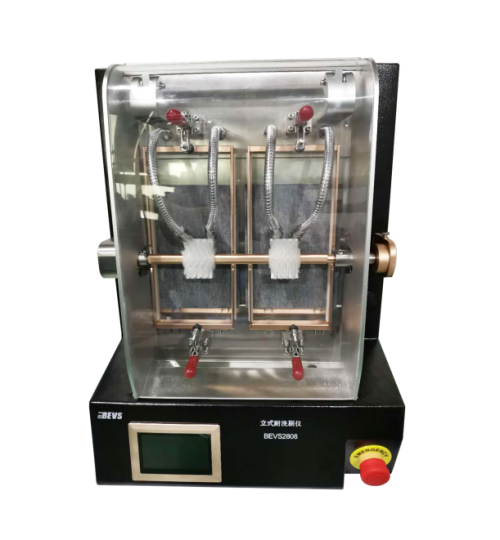 Features:
-Touch screen integrated control, easy to operate
-Diaphragm pump controls the spray volume of test liquid
-Test time or number of rotations can be set
-With transparent cover,convenient to observe the pause or experiment process
-Display the remaining time and number of laps
-Changing the brush material can do other product tests
-Data storage and output (optional)
Technical parameter:
-Rotation speed: 0-60 rpm, can be forward and reverse
-Test cycles: 0-99999
-Test panel: 200×150mm, thickness: 0-25mm
-Number of roller brushes: up to 4
Standards:
T/SDTL 01-2020, T/SDTL 02-2020, ASTM D 2486-2017
Application:
Architectural art coatings, interior and exterior wall coatings, automotive interior parts, daily chemical products, ceramic tiles and floor.